UN´S GLOBAL GOALS

AND
SUSTAINABILITY STRATEGY
Global Goals and sustainability strategy in everyday life and in education
We use the UN's Global Goals for Sustainable Development as inspiration both in everyday life and in education, and we have theme days and project weeks about sustainability.
We wish to be 100% sustainable.
Goal 2 - We are co-coordinator and actively participate with the students in the charity collection of the Danish Refugee Council.
Goal 3 - We have bronze mark in ecological food and we eat vegetarian min. 3 days a week.
Goal 15 - We teach ecological gardening, permaculture and slow food.
Goal 6 - We only use environmental-friendly products in our cleaning.
Goal 7+13 - We heat the school with a CO2-neutral heater and we have installed solar panels.
Brenderup Højskole's
main purposes
support these Global Goals
Goal 12 - We teach sustainable building and upcycling design. We have a free-shop with clothes, shoes and books. We sort our waste.
Goal 14 - We are active in plogging ("plocka upp + jogging") in order to prevent plastic to reach the sea.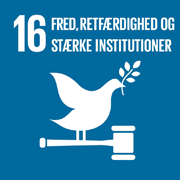 Goal 16+17 - We have students from many different lands and cultures. We teach intercultural understanding, We cooperate with DFUNK (Danish Refugee Council Youth), Brenderup Sermathang Friendship Association and AFS Interculture Denmark.
We are a member of the Folk High Schools' Sustainability Network.